WORLD NO TOBACCO DAY CELEBRATED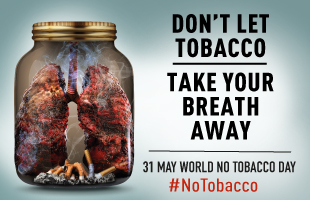 The Department of Public health dentistry and Department of Oral Medicine and Radiology in collaboration with N S S Wing of Bangalore Institute of Dental Sciences, organized a event, on May 30th, to celebrate the 'World No Tobacco Day – 2019. The focus of World No Tobacco Day 2019 was on "tobacco and lung health." The campaign also created awareness on:
The negative impact that tobacco has on people's lung health, from chronic respiratory disease to cancer

The fundamental role lungs play for the health and well-being of all people.
Highlighting the importance of the event, Dr Prathima Murthy, Professor, Dept. of Psychiatry, & Chief, De-addiction Services National Institute Of Mental Health And Neuro Sciences, Bangalore, gave a enlightening interactive lecture on Tobacco and its ill effects and Substance abuse .Oral cancer is a major public health problem in the Indian subcontinent, where it ranks among the top three types of cancer in the country. The difference in incidence of oral cancer can be due to an overall effect of ageing of population as well as some regional differences in the prevalence of specific risk factor. The speaker also stressed that Parents and other members of the community should also take measures to promote their own health, and that of their children, by protecting them from the harms caused by tobacco.
Programme was conducted in the college auditorium and attended by Principal, various heads of Departments, Staff and Students of all academics years including Interns and Post graduates.
There was a Oral Cancer Screening Camp conducted in association with Association of Oral and Maxillofacial Surgeons of India and Airport Taxi drivers association at Kempegowda International Airport for Taxi drivers at the airport on 05/06/2019, a total of 280 Taxi Drivers were screened for the same.